In the Hungry Spirit, Charles Handy investigates the unintended side effects found in Capitalist Societies and why Capitalism, although superior to Communism and extreme varieties of Socialism, has failed to convince us that it has the complete answer to our desire for progress. He also explores our own desire for a purpose in our own lives and how ideally, we should attempt to leave the world a little better.

He states throughout, how money is the means of life and not the point of it, and then explores this statement through looking at literature and other case studies. He writes about how self sufficiency is an idle dream for inevitably we are all dependant on each other and looks at "Proper Selfishness" and how it is actually an optimistic philosophy because it believes we are ultimately decent people.

"If you believe that most people are capable and can be relied upon, they will often live up to your expectations. Optimists are always prey to disappointment but life without hope is dismal."




Video: What is Innovation?



O que David Gurteen pensa sobre inovação from iGovSP - O que você pensa? on Vimeo.

– David Gurteen é consultor na área de gestão do conhecimento. Ele fundou o Gurteen Knowledge Community (Comunidade de Conhecimento) um ambiente de aprendizagem e troca de conhecimento e experiências composto por mais de 14.000 pessoas espalhadas em 153 países diferentes. Nesse vídeo, Gurteen fala o que pensa sobre inovação.





You will find information on over 200 books on this website - books that relate to the themes of the site: knowledge, learning, creativity, innovation and personal development.

If you would like to receive an e-mail alert whenever I post information about a new book (i.e. one that has been published in the last 12 months) then please click on the button below and complete the form.



The Hungry Spirit (Feb 1999) by Charles Handy
Beyond Capitalism : A Quest for Purpose in the Modern World



Waiting for the Mountain to Move (1995) by Charles Handy
And Other Reflections on Life



Business Management [67 items]



Charles Handy (b. 1932) Social Philosopher & Management Consultant



On educational curriculums by Charles Handy (b. 1932) Social Philosopher & Management Consultant



If you are interested in Knowledge Management, the

Knowledge Café

or the role of conversation in organizational life then you my be interested in this online book I am writing on

Conversational Leadership
Gurteen Knowledge Community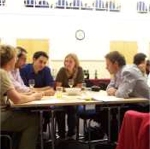 The Gurteen Knowledge Community is a global learning community of over 21,000 people in 160 countries across the world.

The community is for people who are committed to making a difference: people who wish to share and learn from each other and who strive to see the world differently, think differently and act differently.

Membership of the Gurteen Knowledge Community is free.
Knowledge Community