The Gurteen Event Calendar is a comprehensive global directory of conferences, seminars, workshops and courses on subjects relating to the themes of this site. Events are annotated as follows:


- I plan to attend.
- I am personally involved and may be speaking, chairing or facilitating.
- There is an outstanding "Call for Papers" for this event.
- I have arranged a discount with the organizers members of my knowledge community.


You will find information on hundreds of events such as conferences, workshops and courses on this website - events that relate to the themes of the site: knowledge, learning, creativity, innovation and personal development.

If you would like to receive an e-mail alert, no more than once a week, that informs you of recently posted events in your region then please click on the button below and complete the form. You also have the option of being reminded once a week of events coming up in your region within the next month.




On the other hand you may prefer to subscribe to an RSS Feed that will keep you informed of events in your region.
If you are an event organizer and would like to include an event on this site then please see here.
I have a set of links to a number of other event calendars on this site and also maintain a list of major annual events. The full event directory is shown below.


| | |
| --- | --- |
| | May 2018 |

Paying attention to attentiveness
Gurteen Knowledge Cafe at the NHS London Leadership Academy (May 2018)
Tue 29 May 2018, Gurteen Knowledge
NHS London Leadership Academy , London, United Kingdom


| | |
| --- | --- |
| | June 2018 |

DEX2018: the digital employee experience conference
06 - 08 Jun 2018, Step Two Designs
Amora Hotel Jamison, Sydney, Australia

Canadian Knowledge Mobilization Forum
Mobilizing Evidence for Human Rights and the Sustainable Development Goals
10 - 12 Jun 2018, Institute for Knowledge Mobilization
Canadian Museum for Human Rights, Winnipeg, Canada

Collecting and Storing Data from Internet-based Sources
Mon 11 Jun 2018, Keith Maynard
Jura Lab, University of Glasgow Library, University of Glasgow Hillhead Street, Glasgow City, United Kingdom

XXIX ISPIM Innovation Conference
Innovation, The Name of The Game
17 - 20 Jun 2018, The International Society for Professional Innovation Management
Clarion Stockholm Hotel, Stockholm, Sweden

IIKM KM Conference 2018
Knowledge Management, Learning, Information Technology
20 - 23 Jun 2018, International Institute for Applied Knowledge Management
Pisa, Italy

What can you do to make your Workplace Happier?
Gurteen Knowledge Cafe @ House of Commons (June 2018)
Thu 21 Jun 2018, Gurteen Knowledge
Portcullis House , London, United Kingdom

END 2018 Conference
International Conference on Education and New Developments 2018
23 - 25 Jun 2018, WIARS
Novotel Budapest Centrum, Budapest, Hungary

KM: The Scores (June 2018)
an afternoon workshop on KM measurement
Thu 28 Jun 2018, Helene Russell at The Knowledge Business
TLT, London, United Kingdom


| | |
| --- | --- |
| | July 2018 |

13th International Conference on e- Learning
ICEL 2018
05 - 06 Jul 2018, ACPI
CPUT Grangers Bay Campus, Cape Town, South Africa

Advanced KM Course
10 - 11 Jul 2018, The Henley Forum
Henley Business School, Henley on Thames, United Kingdom

Deep Knowledge
Uncovering and exploiting your organisation's deep knowledge
Wed 11 Jul 2018, Helene Russell at The Knowledge Business
TLT, London, United Kingdom

TAKE 2018 - Multidisciplinary Conference on Theory and Applications in the Knowledge Economy
12 - 13 Jul 2018, Poznan University of Economics and Business
Poznan University of Economics and Business, Poznan, Poland

9th Knowledge Management International Conference
KMICe
25 - 27 Jul 2018, Universiti Utara Malaysia
Miri, Sarawak, Malaysia


| | |
| --- | --- |
| | August 2018 |

Knowledge Management Australia 2018: Sydney Edition
Past Present Future
01 - 02 Aug 2018, Ark Group Australia
Holiday Inn, Sydney, Australia

Thirteenth International Conference on Knowledge Management in Organisations
Emerging research for Knowledge Management in organisations
06 - 10 Aug 2018, University of Žilina
University of Žilina, Žilina, Slovakia

Knowledge Management Australia 2018: Canberra Edition
Past Present Future
08 - 09 Aug 2018, Ark Group Australia
Rex Hotel, Canberra, Australia

Knowledge Management South Africa: 2018 Convention:
22 - 24 Aug 2018, Knowledge Management South Africa
Country Club Johannesburg, Woodmead, Gauteng, South Africa


| | |
| --- | --- |
| | September 2018 |

19th European Conference on Knowledge Management
ECKM 2018
06 - 07 Sep 2018, ACPIL
University of Padua, Padua, Italy

13th European Conference on Innovation and Entrepreneurship
ECIE 2018
20 - 21 Sep 2018, Academic Conferences and Publishing International
University of Aveiro, Aveiro, Portugal

eLearning Africa 2018
13th International Conference on ICT for Development, Education and Skills
26 - 28 Sep 2018, ICWE GmbH, Leibnizstrasse 32, 10625 Berlin, Germany, www.icwe.net
Kigali Convention Centre, Kigali, Rwanda

V Congreso Internacional RED PILARES
Nuevas formas de organización y trabajo: Latinoamérica frente a los actuales desafíos económicos, sociales y medioambientales
26 - 29 Sep 2018, Red de Postgrados de Investigación Latinos (PILARES)
Universidad de Santiago de Chile, Santiago de Chile, Chile


| | |
| --- | --- |
| | October 2018 |

58th Annual IACIS Conference
The Convergence of IS and EdTech for Enhancing Educational Processes and Supporting Organizations
03 - 07 Oct 2018, International Association for Computer Information Systems
Clearwater Beach, Florida, United States

12th European Conference on Games Based Learning
ECGBL 2018
04 - 05 Oct 2018, Academic Conferences and Publishing International
SKEMA Business School, Sophia Antipolis, France

Perfectly Natural Retreats
Perfectly Natural Iceland
09 - 11 Oct 2018, Thora Thorsdottir
Solheimar Eco Village, Near Selfoss, Iceland

14th European Conference on Management Leadership and Governance
ECMLG 2018
Thu 18 Oct 2018, ACPIL
HU University of Applied Sciences, Utrecht, Netherlands

The 9th International Conference on Innovation and Knowledge Management in Asia Pacific (IKMAP2018)
Innovation and Knowledge Management in Industry 4.0
31 Oct - 02 Nov 2018, Zhejiang University and Knowledge Management and Innovation Research Centre (KMIRC)
Yuquan Campus, Zhejiang University, Hangzhou, China


| | |
| --- | --- |
| | November 2018 |

17th European Conference on eLearning
ECEL 2018
01 - 02 Nov 2018, ACPIL
Technological Educational Institution (TEI) of Athens Greece, Athens, Greece

KM World 2018
06 - 08 Nov 2018, Information Today
JW Marriott , Washington DC, United States

Chief Learning Officer Forum, Fall
The Premier Meeting Place for the Executive L&D Community
27 - 29 Nov 2018, Corinium
Boston, MA, United States

15th International Conference on Intellectual Capital, Knowledge Management & Organisational Learning
ICICKM 2018
29 - 30 Nov 2018, ACPI
University of the Western Cape, Cape Town, South Africa


| | |
| --- | --- |
| | December 2018 |

ISPIM Connects Fukuoka
Building on Innovation Tradition
02 - 05 Dec 2018, The International Society for Professional Innovation Management
Hilton Fukuoka Sea Hawk Hotel, Fukuoka, Japan

If you find a KM Event then tweet it and add the tag #kmevent
If you are interested in Knowledge Management, the
Knowledge Café
or the role of conversation in organizational life then you my be interested in this online book I am writing on
Conversational Leadership
David Gurteen

I help people to share their knowledge; to learn from each other; to innovate and to work together effectively to make a difference!
How to contact me
My Blog
Gurteen Knowledge Community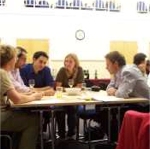 The Gurteen Knowledge Community is a global learning community of over 21,000 people in 160 countries across the world.

The community is for people who are committed to making a difference: people who wish to share and learn from each other and who strive to see the world differently, think differently and act differently.

Membership of the Gurteen Knowledge Community is free.
Knowledge Community